How & When Compliments For Women Should Be Given
MeetMilfy Editorial
July 27, 2021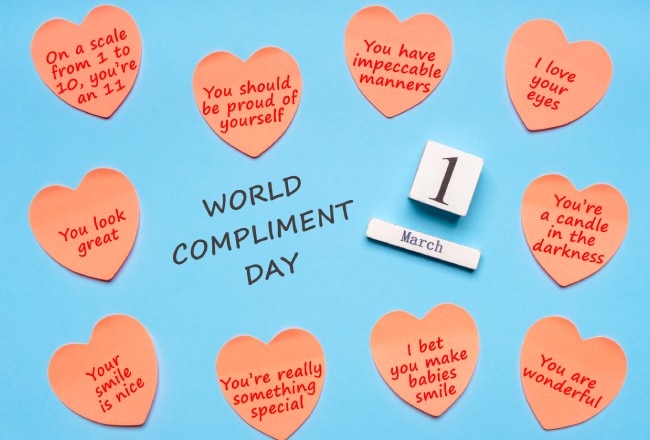 How To Compliment A Girl & Why Do So
Wondering when to deliver the best compliments to give a woman? A naturally sweet and caring man does not need an occasion to express what he feels. When you are dating a wonderful lady, it is only right to compliment her at random times. Whenever you feel a heart-warming moment coming, be ready to melt her heart with sweet praises. It does not matter what day it is or what time, or if there is a celebration or not. There are countless reasons for giving compliments, and the top reasons are:
Genuine intention of love - romantic compliments, especially the non-sexual ones, are proof that you are sincere with your affection for a woman. And so to compliment her is a smooth move on wining a new friend and lover.
Cute compliments make her feel good - women always feel attractive, needed, and special when men pays them sweet compliments. Regardless if you are dating online or in the real world, practice using cute compliments to make your special lady feel loved.
Compliments showcase your thoughtfulness - genuine compliments typically shows how much you care for the person. Every time you compliment a woman with non-sexual content, she feels special. And in a serious relationship, it is essential to make your partner feel so much loved.
Indeed, giving compliments benefit you as well as your special someone. Your relationship grows stronger when you know how to let your woman feel beautiful and cared for. So go ahead and check out a couple of nice praises and create some on your own.
How To Compliment A Women: Best Praises To Win Her heart
The best compliments to give a girl are invaluable. The nice phrases cuts a space into the heart of the woman you like, and it is absolutely great to learn what to say in a form of a sweet compliment. Remember to always pick your words right to prevent any misunderstanding, or worst, to avoid disappointing your lady. Let us look at some examples of sweet and thoughtful compliments.
You are sexy, but your mind is absolutely sexier.
When you smile, I feel the sweet warmth of the sun.
Your cute laugh is addictive, but rehab is not what I need.
I love getting lost in the depths of your tantalizing eyes.
Even without makeup, your beauty is dazzling!
I love the man I become because of you.
Though we meet in chat rooms only, I see how beautiful your are inside.
Your smile is the first thing I thought of when I wake up.
I fall for you even more each day I get to know you.
You deserve the best man in the world, so I will be one for you.
Chatting with you is my favorite moment of the day.
Your presence always brightens up the whole room.
Even through your photo, your unique essence exudes your inner beauty.
I can never imagine forever without you in my life.
You are no doubt the best part of my world.
I never had a lottery ticket, but I won the jackpot in you.
Thanks to you, I realized that monogamy is the best expression of love.
I smile like a crazy person whenever you grace my mind.
Your messages lift up my spirit especially on a bad day.
I dated many women in the past, but in you I found true love.
For you, I am willing to face my greatest fears!
I never thought that my heart is capable of loving so much until I met you.
Life was unfair to me, but you came and changed my world for the better.
With you, I can do anything and go anywhere.
It is alright to give sexy compliments to a woman, as long as you have known her for a long time. But it is still a great idea to provide non-sexual praises, since those words are more powerful. In fact, ladies prefer men who are poetic in a kind and good-hearted way. And when you are ready to compose your own set of compliments, take into consideration the kind of woman who inspires you to dig into your artistic side.
Do's And Don'ts On How To Give Compliments To Women
When there is a woman whom you like so much, it is advisable to create nice compliments for her. She would surely love to hear or read sincere praises from you. But before you make your move, check out the important do's and don'ts in giving a compliment.
Do…
give compliment in a non-sexual context - women are used to receiving compliments in a sexual nature, especially when they are so beautiful and sexy. Change the way they see men by giving a non-sexual praise. The compliment will surely touch their heart.
observe her traits and actions - take note that not all compliments apply to all women. It is ideal to get to know a lady better before you shower her with sweet praises.
create your own compliments for her - yes, it is tempting to copy ready-made compliments online, but it is best to create your own. That way, the impact of your praise is genuine. Besides, women appreciate compliments that come from the heart.
Don't…
overestimate your value - to give compliments is good, but make sure that you choose your words. Refrain from being cocky, and never think that you are too important for the woman.
be vulgar and rude - praises are supposed to be good and brings brightness to the day. But some compliments are quite vulgar and rude, which immensely frustrates girls.
stare at her inappropriately - even if you are talking through a web cam only, give some respect to your online date and refrain from staring at her cleavage. And when you say your compliments, look her in the eyes and be sincere with your words.
The best compliments to give a girl are words that are genuine and coming from the depths of your soul. Always have confidence when you shower your girl with amazing words of praises. Regardless if you say your compliments in person, through a phone call, a video call, or a chat message, you must deliver the phrases with utter self-confidence.