Sex With Older Women: The Best Experience For Young Men
MeetMilfy Editorial
July 27, 2021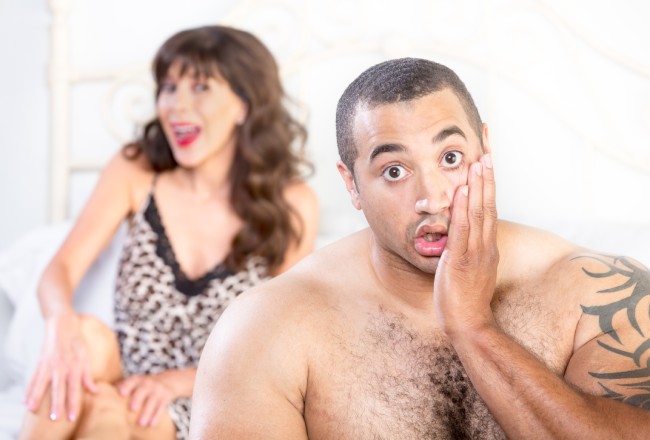 How To Get A 50 Year Old Woman In The Mood
Sex with older woman is quite amazing. To millions of young men who experienced this act, they testify that sex is much better compared to their younger lovers. Indeed, a woman in her 50s is more experienced in bed, especially one who was never shy about exploring her sensuality. However, you also need to understand that getting a 50-year old lady in the mood can be quite challenging. For a young man, you must take the time to understand how a mature woman thinks and feel. By getting in tune with her needs, you can better perform your sexual desires in bed.
Are you interested in learning how to have sex with older women? Look no further! Our blog post is the ultimate guide to satisfying mature women's desires. We provide valuable tips and tricks on how to approach, seduce, and please older women in the bedroom. These experienced ladies know exactly what they want, and we'll help you understand their desires and fantasies. Whether you're seeking a casual fling or a long-term connection, our blog post has got you covered. And if you're looking for even more opportunities to connect with like-minded individuals, check out our married chat where you can engage in thrilling conversations with married individuals who are seeking discreet encounters.
Facts About Older Women & Sex
You need to understand that to have sex with a much older woman requires finesse. You simply do not just have sex for the sake of getting your rocks off. Rather, sex with a mature lady is a form of art. And to perform this act perfectly, you need to know the basics and the foundation of her womanhood. Though it is true that women are active in sex in their younger years, that desire and passion tends to wane over the years. And when a woman reaches her 50s, her sexual drive is not as flaming as before due to some factors.
Age - because of menopause in her 50s, a woman loses the desire for sex dramatically. She needs extra effort from her man to get in the mood as a result.
Body changes - no matter how active the lifestyle is for a woman, her body changes as she age. She would no longer be capable of doing extreme sex positions, so work harder on setting the mood for sex.
Emotional state - many women get depressed as they age, and their emotional state affects their sex drive. Getting them in the mood requires a bit of validation of their their beauty and prowess.
Medical issues - the fact is, older women tend to have a few health issues. And because of those medical problems, their sex drive is not as powerful as before. Making them feel sexual passion again takes time and extra effort.
Yes, there are significant factors that greatly affects the sexual passion of a woman. You would need to exert extra effort in getting her in the mood, but the reward is worth it. Because you put so much work in your sexual adventure with an older woman, the release is more explosive and delicious.
Techniques In Getting An Older Woman In The Mood
If you are sincerely interested in a relationship with an older woman, then it is best to know how to get her into the sex mood. Your partner needs extra work to feel aroused, but there are a couple of techniques to get her going.
Communication - it is vital for you and your older partner to have constant communication. Talk about what she wants in bed, what she is comfortable with, and simply what she desires in sex. Allow her to open up about her doubts and fears so you can address them together.
De-stress - stress is the ultimate mood killer in sex, especially for mature women. Get your lady into the mood by helping her de-stress. Set up a romantic evening with candlelight dinner and wine, coupled with light music and dim lights. Once the stress is lifted, her sexual desire flares up.
Foreplay - every woman in the world needs foreplay. And with your older partner, you need to put extra effort in the arousal process. Allocate time for enough foreplay in bed, and make sure that nothing could kill the mood.
What Do 50 Year Old Woman Want In Bed
Dating sexual older women is an invigorating experience for younger men. As what they say, age does not matter in love. But then, love and sex are two different things. With sex, age does matter. A strong sexually active man needs to adjust to the needs of an older woman in bed. Your 50-year old lover has different sex capabilities compared to younger girls, so be considerate.
Things That Older Women Desire In Bed
Having sex with an older woman can change the way you look at sex for the better. When you are in a relationship with a 50-year old lady, you need to understand that her sexual desires are not as strong as when she was in her younger years. Now, there are things that she expects to have with you.
Intimacy - more than anything else, an older lover craves for intimacy. Sex is no longer just about an ultimate sexual release, but it is more about being close to someone.
Ultimate pleasure - a 50-year old woman longs for the most exquisite orgasm. Her arousal takes time to process, so be patient with her and take her to the heights of pleasure that she craves for.
Time - if you notice, older people are more clingy than younger ones. They are sweeter too. And so it is important to give your mature lady more time for cuddling, foreplay, and sex.
Sex toys - because older women has waning passion for sex, they require extra boost. Many are into sex toys, so explore this possibility with your older lover.
Loyalty - mature ladies are emotionally stable. But they are still human, so they sometimes feel a bit of insecurity towards younger girls. To avoid conflicts, make it a point to show your loyalty by focusing your attention on your lover only.
Affection - it is true that many older women are after casual sex. But if you happen to have a serious relationship with a lady in her 50s, it is best to be sure of your feelings.
Consideration - an older woman requires her young man to be considerate of her body and feelings. You need to observe how she reacts on your touch, and always check if she is feeling okay before ravishing her with your sexual expertise.
An older woman can provide you with so many things in life that you can only dream of. Most mature ladies are financially stable, and they are often generous with their young lovers. To take advantage of the thoughtful heart of your older partner, go the extra mile in fulfilling her needs. Find out what makes her tick, and what can make her happy. Keep in mind that when a 50-year old lady is fully satisfied with you, she will give you the world.
How To Get A 60 Year Old Woman In Bed With You
When you are having sex with older woman, it is easy to get lost in the moment. The thrilling adventure of lust and love stares you in the face, but before you can fully enjoy the fantasy, it is ideal for a sensual man like you to comprehend what women in their 60s are concerned about when it comes to having sex with a younger lover. It is only in understanding their fears and doubts that you can truly take a mature lady to bed and give her optimum pleasure.
Understanding The Concerns Of An Older Woman
The best adult advice that you can ever receive is to be understanding of the deep-seated concerns of 60-year old women. To have a young and virile lover is pride and joy for these ladies, but they are filled with doubts too. The key to bedding an older lady successfully is to know what is bugging her.
Unveiling of the flesh - no one can deny the fact that the body of older ladies are not as delicious-looking as the younger ones. And so you need to understand the hesitation of your mature partner in taking off her clothes.
Pleasing her young lover - older women are experienced with sex, but when they reach their 60s, they have doubts about their prowess in bed. It is best for you to take the lead, and intensify her arousal with expert foreplay.
Feeling aroused - after six decades of existence, the body of a woman loses the natural desire for sex. Arousal does not come easy, so of course your older lover is worried about getting aroused, or disappointing you if she fails to get in the mood. In this case, do extra work on making her feel aroused.
Yes, 60-year old ladies have many concerns, but it is your job to make your lover feel beautiful and wanted. Show her your desires, make her feel loved, and never judge her body.
How To Get A 50 Year Old Woman In Bed With Ease
Making love to an older woman makes you feel alive and rejuvenated. But how exactly can you get a 50-year old lady to have sex with you? Thanks to online dating, you can spend day and night meeting your matches, and searching for suitable older ladies to date. And when you finally found one, make use of the valuable tips on how to make sure that your mature lover is completely satisfied in bed.
Tips On How To Pleasure An Older Woman In bed
Sex with much older woman can be quite challenging, but definitely worth it. However, you simply cannot just take off her clothes and hump into her. Make the experience memorable and erotic by following a few tips.
Use sex toys - make your night in bed more fun by using sex toys. These items enhances your sexual mood, and get your lover aroused much faster.
Consider lubes - the significant reduction in estrogen after a woman went through a menopause is causing the absence of vaginal lubrication. Consider using lubes in order to have a smooth intercourse without pain for your gorgeous lady.
Go slow - women in their 50s experience the loss of elasticity and density on their private parts. So go slow in entering her. Refrain from hammering into her hard, since that could hurt her.
Masturbation - have you ever watched someone masturbate in front of you? If you did, then you know how hot and sexy the scene is. And so to help your older woman get aroused, try masturbating in front of her, and help her touch herself too.
You might already be an expert in sex, but doing this act with someone older is quite different than with younger women. Pay attention to what a 50-year old woman needs, and show her you are willing to do anything for her pleasure.
How To Please An Older Woman Like An Expert In Bed
Even after dating mature ladies, do you still wonder how to have sex with an older woman in an expert manner? Luckily for you, there are invaluable things that you have learned here to make older women crave for your touch all the time. Indeed, having sex with someone who is a decade or two older than you is exciting. You may face a lot of bad gossips, judgment, or social discrimination, but dating a mature lady is worth the risk. Plus, you gain so many benefits from this romantic adventure.
Benefits Of Having Sex With An Older Woman
If being with a mature woman sets your world on fire with pleasure, then go for it. You own your life, and it is too short to spend on what ifs. By having sex with an older lady, you take advantage of major perks.
Less drama - women in their 50s and 60s are matured enough to stay clear from all the drama that plagues young couples. So if you hate the constant nagging or fights with a girlfriend, opt for an older lover.
Financial gain - the truth is, many men prefer to date older ladies due to financial gain. The 50s and 60s female population are typically financially stable, and so you can achieve monetary benefit in dating them. Of course, you can truly love your matured lady, but it would never hurt to enjoy the luxury that she is capable of providing.
Straightforward conversations - tired of the childish and nonsense talks with your young girlfriends? Try dating an older woman, and you get to have straightforward and meaningful conversations. Mature ladies have lived longer than you, and they learned many things about life already. With their stored knowledge, you will never lack of important topics to talk about.
Values relationship - well, older ladies are more appreciative of a romantic relationship since they know the importance of time. They understand that a relationship with a younger man will not last long, and so they treasure every second that you are together.
Stability - financial stability is not the only gain from dating someone older. Emotional stability is a major benefit also. There are tons of things that you can learn from an older woman, and one of them is how to handle your emotions. And when someday you are ready to move on, you bring your learning with you.
Loyalty - mature women are known to be loyal to their young lovers. As long as you are good to your partner in any way, she will surely shower you with loyalty, gifts, and love. But be careful, because once a mature lady is hurt, she is likely to become your worst nightmare.
More passionate - yes, older women lacks the extreme desire for sex, but they are absolutely passionate with their lovers. They are sweet, caring, and so loving. When you date someone much older, be ready to be embraced with a passion that surpassed any other you have known before with others.
You are surely missing out on the best sexual experience in this world if you have never had sex with an older woman. Do not get left out. Indulge in your wildest, most sinful, and utterly pleasurable sexual fantasies with a mature lady. Now that you know how to have sex with an older, experienced woman, it is time to act on your knowledge. Join the best online dating site today and find gorgeous ladies to play with.